How Far is Lisbon from the Beach? 11 Closest Beaches to Lisbon 2023
Everyone and their monkey's uncle wants to go to the beach when in Portugal! Portugal is known for its golden stretches of sand and fabulous surf, but how far is Lisbon from the beach? Well, you'll be pleased to find out that Lisbon is about 20 km from the closest beach and you can easily get there in about 20 to 30 minutes!
We love the beaches near Lisbon, and often visit them for a swim, or even just an afternoon drink to get away from the urban rat race! Most of these beaches are easily accessible by public transport.
If you're in for a long wait, remember that Bolt, or Uber can speed things up considerably for just a few extra euros. You can also drive to most of these beaches, although parking can be a headache, especially in high season.
Read on to find out which beaches are closest, what to expect, and how to get there.
✅ If you're planning on using public transport to get around Lisbon, check out the Lisbon Card and everything else it includes!
Table of Contents
How Far is Lisbon from the Beach? 11 Closest Beaches to Lisbon
1. Praia da Torre
Praia da Torre is the perfect beach to visit when wanting to get away from Lisbon's heat. Its close proximity to the city makes it easily accessible, while its tranquil atmosphere and breathtaking views make it a wonderful escape from the hustle and bustle of the city.
The crystal clear waters are great for swimming or lounging in the sun, while a variety of restaurants and bars around provide ample opportunity to try some of Portugal's amazing food with sand in your toes.
This is one of the best swimming beaches, especially for kids since the beach is so protected. Don't miss Luar da Barra bar, which is located at the top of the cliff. It's a place with a great atmosphere which was built in a vintage railway wagon! Definitely worth the trek up!
How to get there: Although Praia da Torre is easy to get to in a car, it's not that simple to reach by public transport. It's right in the middle of the Santo Amaro and Carcavelos train stations.
You can get there either by taking the train from Cais do Sodre and getting off at Santo Amaro. Then you can walk the pleasant 30 minutes along the boardwalk, or just grab an Uber/Bolt from the station for a few Euros.
Click here for the Google Map Location
2. Praia de Carcavelos
Praia de Carcavelos is the perfect beach for people wanting to spend a day on a golden strip near Lisbon.
Just a 20-minute drive from the bustling city of Lisbon, Praia de Carcavelos is easy to get to and boasts white sand beaches, crystal-clear waters, and plenty of activities for everyone to enjoy.
From surfing and sunbathing to enjoying the nearby restaurants and bars, Praia de Carcavelos has everything you need for a perfect day of sunshine. The nightlife and restaurants in the area will keep you entertained here way past sunset, so be prepared to have dinner here too if you're up for it!
Check out a new joint called La Plage, with great decor, excellent tapas and cool atmosphere you can't go wrong.
How to get there: To get to Carcavelos take the train from Cais do Sodré in Lisbon. You'll find the beach a 10-minute walk from the Carcavelos train station.
Click here for the Google Map Location
3. Estoril – Tamariz Beach
Tamariz Beach is THE place to be if you're staying in Lisbon. This gorgeous beach is located on the mouth of the Tagus River and has been a popular spot for tourists for decades. It's known as one of the trendiest beaches in Lisbon, and for good reason.
The white sand, crystal blue water, and stunning sunsets make it the perfect place to relax after a long day exploring all that Lisbon has to offer. It also has a protected natural pool of seawater for kids and anyone wanting to bathe without having to deal with the ocean swell.
Plus, Tamariz Beach is filled with bars and cafés where visitors can sample some of the best Portuguese cuisine while watching beautiful sunsets over the ocean. Check out Utopia Tamariz for the best outdoor terrace with truly excellent food!
How to get there: You can get to Tamariz Beach by taking the train from Cais de Sodre and getting off at the Estoril station. The beach is right across from the station.
Click here for the Google Map Location
4. Praia da Duquesa
The Praia da Duquesa in Cascais is an idyllic beach paradise located just 15 miles outside of Lisbon. With golden sands and gentle waves, it's the perfect spot to relax and take in a stunning view of the Atlantic Ocean.
You can find a variety of activities on this blue flag beach, from sunbathing and SUP to kayaking – plus there are plenty of cafes, bars and restaurants for lunch or even dinner out.
For those interested in exploring further afield, the charming village of Cascais offers plenty of cafes and restaurants to explore. If you're looking for some excellent lunch on the sand, try Capricciosa Cascais for great Italian food and decent service.
How to get there: From the Cais de Sodre station a 35-minute train ride will take you out to Cascais. Get off at the Cascais station, and walk the 5 minutes to the beach.
Click here for the Google Map Location
5. Praia da Ribeira de Cascais/ Praia da Concessao
Praia da Ribeira in Cascais is an excellent day trip for tourists staying in Lisbon. Located a quick train ride from the city, you can easily reach this beautiful beach in about a half hour.
Praia da Ribeira is a great option if you are looking for a bustling beach to spend some time lazing in the sun – its calm waters are ideal for swimming and its golden sand invites visitors to relax, sunbathe and enjoy picturesque views of the Atlantic Ocean.
Since it's right in the center of Cascais, it can get very crowded in August, but is very clean since it is a Blue Flag beach. The area has plenty of restaurants, bars and terraces nearby, and is a great way to combine visiting the quaint village of Cascais with a relaxing afternoon at the beach.
How to get there: There are actually 2 beaches with this name, one right next to the other! One is a continuation of Praia da Duquesa, while the other is between Praia da Duquesa and Praia da Rainha, all in downtown Cascais! When you get off at the Cascais train station you'll find the beach right in front of you, and the other about 500 meters to your right.
Click here for the Google Map Location
6. Praia da Rainha
Praia da Rainha, another lovely spot in Cascais, is a stunning beach featuring crystal blue waters, beautiful golden sand, and plenty of activities for everyone. Located just a short train ride away from Lisbon's Cais do Sodré station, Praia da Rainha is a great option to join with other beaches in the area for tourists looking to Cascais and its beaches.
This small stretch of sand is really just a golden pocket between a few buildings in the center of Cascais! This means it gets crowded very quickly and doesn't really have much room for lots of cafes and restaurants, although there are a few options.
I would recommend you stop at Rainha Beach Club for a drink when meandering through Cascais since spots on the sand here are quite the commodity!
How to get there: You can also get here by getting off at the Cascais train station.
Click here for the Google Map Location
7. Praia do Guincho
Praia do Guincho is the perfect place for a day trip from Lisbon! Located only 25 minutes away, this beach is especially great for active tourists looking to get in some water sports.
The choppy waters provide good conditions for surfing and kitesurfing, making it an excellent spot to take advantage of the sunny days. It's important to know that this beach is quite windy, and not the best for kids since the water isn't that easy to get into.
On a more exciting note, this is also where James Bond filmed some scenes of the movie Casino Royale!
For those wanting to stay dry, there are plenty of trails nearby offering stunning views of the sea. Whether you're looking to relax with a drink at Bar do Guincho or catch some waves, Praia do Guincho is sure to make for a memorable day out!
How to get there: I suggest you drive, or take the train from Cais do Sodre to Cascais train station, and then take an Uber/Bolt to Guincho Beach for about 5 Euros. You could take a bus from Cascais, but the extra half hour isn't really justified when you can get there for so little much more quickly!
Click here for the Google Map Location
8. Praia Fluvial de Alburrica – Barreiro
Praia Fluvial de Alburrica is the perfect escape from the hustle and bustle of Lisbon. Located just a 20 minute ferry boat ride away, visitors can spend their day lying out on the sandy beach and cooling off in the refreshing warm water of its shallow river delta.
Since there are no waves here it's perfect for kids and adults alike! And if you're looking for warmer water, this is your ticket! Here you'll find lifeguards, showers and public toilets.
The beach bar is great and the sunsets here are truly incredible. Take a break from sightseeing to catch some sun or take a leisurely stroll along its wooden walkways, taking in the stunning views of the Tagus. A really nice place to visit even if you don't go in the water!
How to get there: Take the ferry from Terreio do Paço and get off at Barreiro. The beach is a 10 minute walk from here.
Click here for the Google Map Location
9. Costa da Caparica – Praia do Castelo
Praia do Castelo in Costa da Caparica is the ideal spot to spend a day trip with family and friends. With its stunning white sands, clear, turquoise waters, and 6 kilometers of beachfront, it definitely makes for a great day out for all!
Whether it's swimming and sunbathing on the beach or taking a stroll along the beach to enjoy the stunning beauty of the area, your day trip will be filled with sunshine and salty air.
Enjoy lunch at one of the local restaurants and take in the spectacular views of Costa da Caparica from the beach.
My favorite part of this beach is the amazing beach bar Irmão, which has beach loungers, service on the beach, and a great restaurant with live music. And although a little expensive, the food is really good and the atmosphere fun and light!
How to get there: Depending on where you are in Lisbon, one of the coolest ways to get to the Costa da Caparica is to go by ferry boat from Belem.
The ferry takes 12 minutes and goes across to Trafaria, and there you take a bus down to Praia do Castelo. Alternatively, you can drive the 30 minutes, or take a Bolt/Uber for about 15 Euros.
Click here for the Google Map Location
10. Praia Grande
Praia Grande is one of my favorite destinations when looking for an escape from Lisbon! With stunning views of both the ocean and cliffs, Praia Grande gives its visitors an unforgettable experience.
Located in the Sintra-Cascais Natural Park, it offers crystal clear waters and a variety of leisure activities such as swimming, dolphin watching, and hiking in the natural park if that's your thing.
You can also find some great traditional Portuguese restaurants nearby, making this beach perfect for a full day of relaxation. Don't miss Bar do Fundo! It has incredible food and a view which doesn't quite compare to anywhere else.
How to get there: Since this beach is more remote, I recommend you drive if you have a car. Alternatively, take the Sintra train from Rossio station and get off at the Portela de Sintra stop.
Here you can take the Scotturb bus 439 to Praia Grande, which takes approximately half an hour. Since this bus only departs every 2 hours or so, you may decide to take a Bolt/Uber to the beach for about 9 Euros.
Click here for the Google Map Location
11. Praia da Adraga
Praia da Adraga is a stunning beach located one beach over from Praia Grande in Sintra, making it an easy day trip for tourists visiting the city.
With its crystal-clear waters, wide sandy beach, and gentle waves, this beach offers plenty of fun in the sun without the crowds that can be found at other popular beaches in the region, even in August.
With picturesque views of the nearby cliffs, this beach also makes a great spot to relax and take some breathtaking photos. There are lifeguards and lots of surfers here, which means slightly bigger waves, but still nice for swimming.
There is only one excellent restaurant on the beach, Restaurante da Adraga, as well as public bathrooms and a parking lot. Don't miss the fabulous caves at Pedra de Alvidrar while you're here!
How to get there: Just like for Praia Grande, you can easily Bolt/Uber to the beach entrance from Sintra Estacao for about 9 Euros. Uber back is more difficult, but if you're patient you'll get one!
Click here for the Google Map Location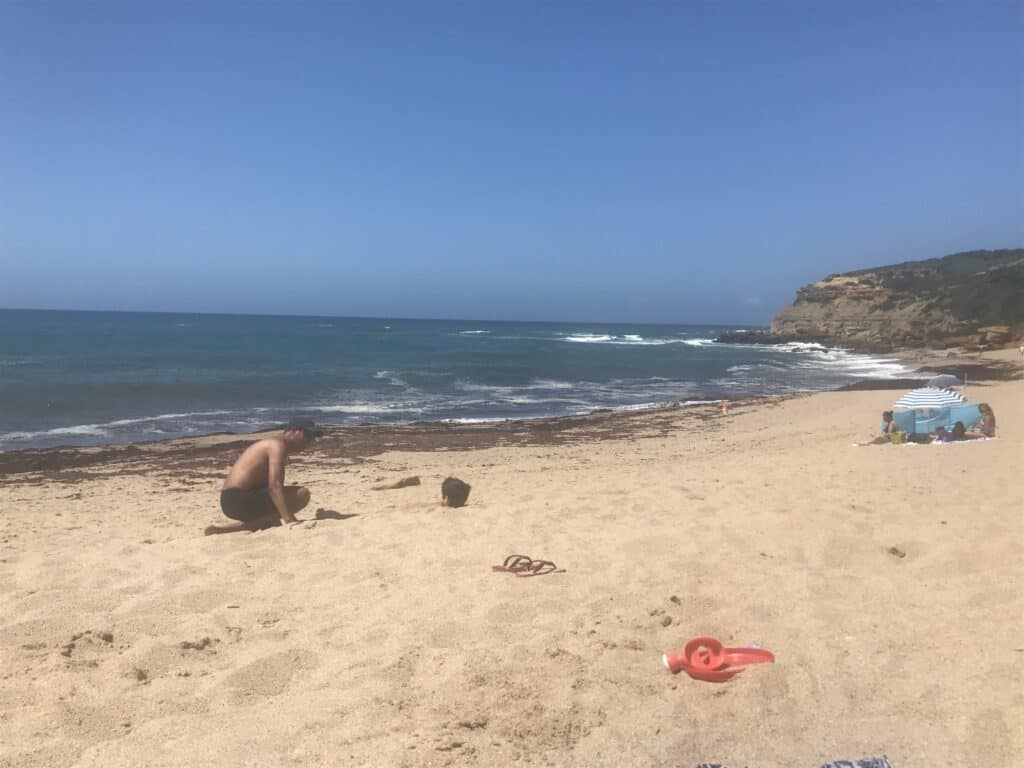 The Closest Beaches to Lisbon FAQ
Is Lisbon a beach city?
Yes, Lisbon is a beach city! The capital of Portugal has lots of beautiful beaches close to the city center. From Costa da Caparica to Carcavelos, there are many incredible spots to go swimming and sunbathing while admiring the breathtaking views. Whether you want to escape the city or just relax on the sand with friends, Lisbon has got you covered!
How far is the coast from Lisbon?
The coast is only a short drive away from the city of Lisbon. Depending on where you are located, you can get to the coastal towns and beaches in as little as 25 minutes. There are plenty of options to explore nearby, so why not head down to one of the fishing villages for some delicious seafood? With stunning beaches and a relaxed atmosphere, it's an ideal place for a day trip or even a weekend getaway.
Is it easy to get to the beach from Lisbon?
Yes, it is easy to get to the beach from Lisbon. There are multiple public transportation options like buses and trains that can take you directly to some of the most beautiful beaches in Portugal. You can also rent a car or book a tour if you prefer a more personalized experience. In just an hour or two, you can be relaxing by the sea with stunning views of the Atlantic Ocean. It's no wonder Lisbon has been popular among beach lovers for centuries!
Are the beaches better in Porto or Lisbon?
Portugal's beaches are some of the best in Europe, but the answer depends on your preference. Lisbon has larger and more popular beaches, with plenty of activities and amenities. On the other hand, Porto is known for its smaller, intimate beaches, providing a quieter and more relaxed atmosphere, some of which are accessible by metro! For those looking for a bustling beach day filled with people or nightlife, Lisbon is likely the better choice; if you're looking for a tranquil, scenic beach day, Porto is unparalleled.
What is the closest beach to Lisbon city?
The closest beach to Lisbon city is Praia da Torre, a great spot for swimming and taking in the breathtaking views. The beach is easy to access from the city centre, although some walking is required, meaning it's the perfect place to spend a day away from the hustle and bustle of everyday life.
What is the best month to visit Lisbon?
Lisbon is an incredible city year-round, with mild temperatures and sunny days, making it a great place to visit at any point in the year. However, if you're looking for the best month to visit Lisbon, try April or May! These months offer mild temperatures and plenty of sunshine — perfect for sightseeing and exploring Lisbon's many attractions. Plus, the blooming flowers add more vibrancy to the city streets and you may even be able to take advantage of lower accommodation prices during these months.
How many days do you need in Lisbon?
Lisbon is a great city to explore and you will find plenty to do during your stay – it really depends on how much time you have and what kind of experience you wish to have. Generally speaking, we recommend 3-5 days in Lisbon if you would like to get a good understanding of the city. This would allow you enough time to visit some of the main attractions such as Belém Tower, Castelo de São Jorge, and the charming Alfama district. However, if you have more time it is also an ideal base to plan some daytrips from, so spending more time here is never wasted!
So, how far is Lisbon from the Beach?
If you're looking for a great beach experience near Lisbon, you won't be disappointed. The stunning Atlantic coastline of the region is breathtaking and offers a wide range of activities to suit everyone.
Whether you're looking for family-friendly fun or an escape from the hustle and bustle of the city, you can find it in this stunning region. So what are you waiting for? Pack your bags and come explore Lisbon's beautiful beaches today!